There are a number of approaches to messaging application continuity.
No single approach can meet 100 % of an organizations needs. Often a combination of approaches are employed.
At a basic level, there are tools that monitor messaging server and system performance, rudimentary utilities such as EXCHDUMP, Goexchange and more sophisticated tools that look for data corruption in servers and attempt to make repairs. These are individual tools, defiantly geared towards the IT operations department. None of these low-level tools are complete offerings for assuring messaging delivery in the event of messaging system failures.
There are various higher-level messaging continuity strategies that either replicate messaging data to backup storage environments or seek to add redundancy to critical parts of the messaging architecture. These approachs mirror the complete messaging infrastructure, or provide some type of standby or hot/standby duplicate system. All have their place as well, but may not provide a complete solution and usually require a very complex infrastructure, heavy IT involvement and very heavy cost.
Organizations that require a better assurance of messaging continuity can look to turn-key solutions that provide full messaging continuity and backup. These purpose built devices are supplied at a much lower cost than the cost of building a replicated infrastructure.
In the Microsoft Exchange environment there are new devices on the market, referred to as application continuity appliances that can economically provide complete operational and data continuity of messaging. The intent of these devices is to cost-effectively provide for messaging continuity for planned (i.e. scheduled) maintenance, as well as the occasional hardware failure or even the occasional configuration error. This approach is more cost-effective and accurate than approaches that fully replicate the messaging environment, and provide a much higher level of continuity.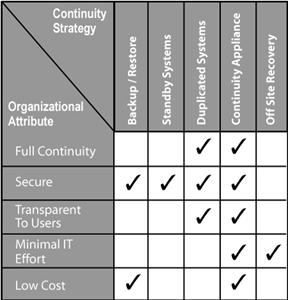 Source: ApplicationContinuity.Org
A final approach is to subscribe to an off-site "backup" service that attempts to capture messaging traffic when notified of a failure in the messaging system and provide an alternate means of delivery, typically through web-based messaging. Users are notified via wireless, through non-company email addresses or other means of delivery. For this an ongoing subscription is usually the norm. This approach offers fast setup and little IT involvement. Disadvantages of these continuity services include high recurring subscriptions costs, gaps in continuity coverage, complexity for the end-user, slow performance, and company assets that are no longer under tight security.